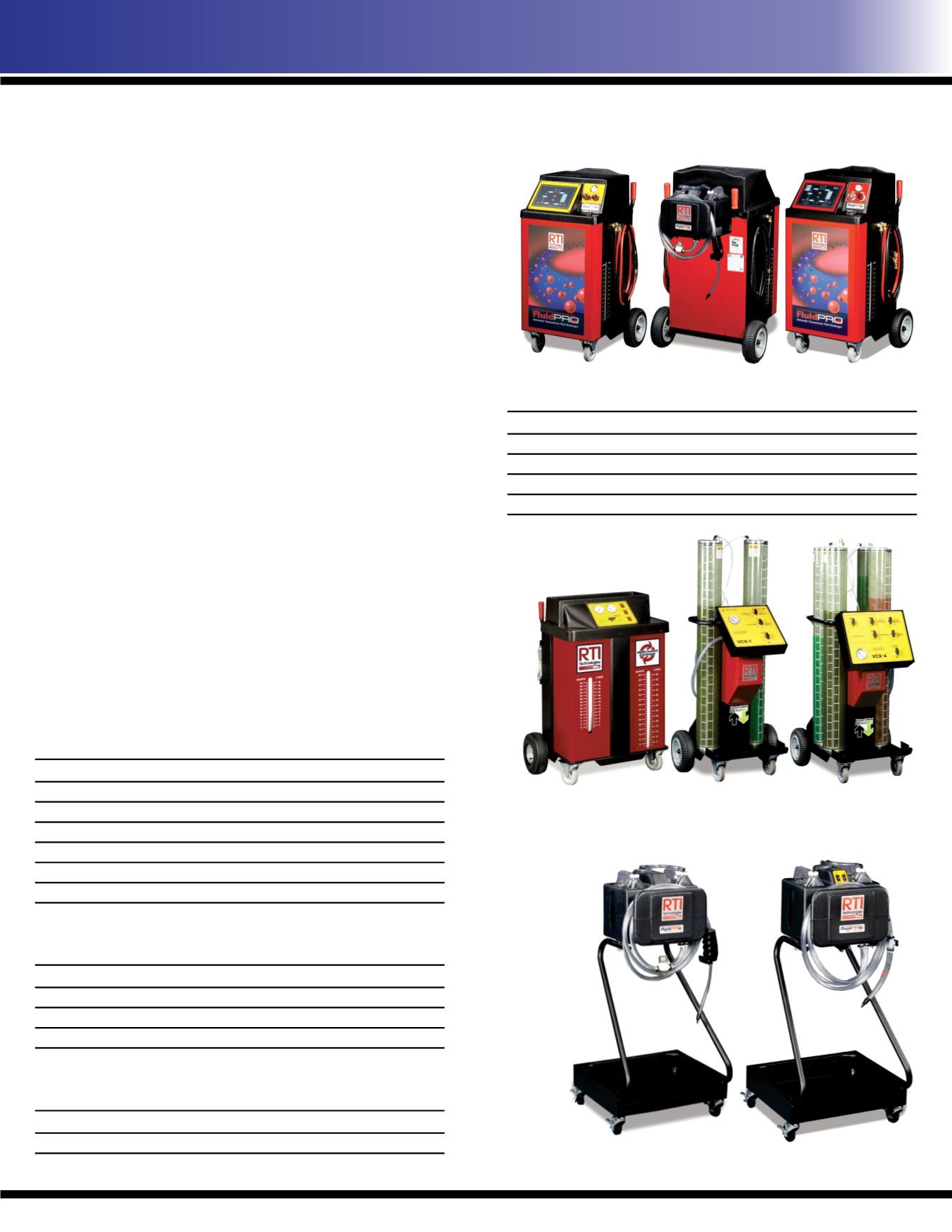 26
SERVICE SHOP EQUIPMENT
Mahle/RTI Technologies Fluid Exchangers
| (239) 394-6099 phone | (239) 394-5388 fax | (800) 526-0049 toll free
RTI Automatic Transmission Fluid Exchangers
Fluid exchange is fast, easy and profitable with RTI's FluidPRO
Automotive Fluid Exchange Service Equipment. Built to go the
distance, FluidPRO Systems are the perfect addition to any
RTI's ATX series automatic transmission fluid exchangers offer
more benefits to the service organization than any other brand
ATX-2
ATX-2PS
ATX-3
Catalog # Description
Standard Automatic Transmission Fluid Exchanger System
Adds A High Output Suction Pump To The ATX-2
ATX-2PS PSX-2 Mounted On The Rear Of The ATX-2 Machine
Enhanced System Which Includes Dipstick Service Mode
Easy Operation
- Electronic keypad, logical intuitive
Superior Productivity
– fully automatic operation, multi-fluid
exchange capability, transmission pressure diagnostics
Extremely Fast Process Times
precision fluid measurement to minimize technician input
Professional Service
–digital weight scale technology for
precise fluid flow measurement & accurate fluid exchange,
proportional motor control maximizes exchange percentage
Application Flexibility
– comprehensive color-coded adapter
Peace-of-Mind
– patented by pass circuit for vehicle
protection if power is interrupted
RTI Automatic Coolant Fluid Exchangers
MCX System
- Multiple Coolant Exchange (MCX) System for simple,
rapid switching of one coolant type to another. Quick switching from
traditional green antifreeze to Dex-CoolTM or others.
The first machine to address modern coolant service needs!
Comes standard with one 15 gallon waste tank and two 7.5 gallon
fill tanks for two different antifreeze types.
VCX System
- Vacuum coolant from the radiator and charge new
Catalog # Description
Standard Automatic Multi-Coolant Exchanger System
Adds Pressure Test & Rad. Cap Pressure Release To MCX-1
MCX-2F Adds Flush By-Pass Loop & Flow Indicator To MCX-2
MCX-2HD Adds Larger Capacity Fill Tanks To MCX-2
MCX-1
VCX-2
VCX-4
Vacuum Coolant Exchanger - 2 Cylinder (1-waste / 1-new)
Vacuum Coolant Exchanger - 4 Cylinder (1-waste / 3-new)
PSX-3
DFX-1
RTI Power Steering Fluid Exchanger
Catalog # Description
Power Steering Fluid Exchanger With Control Wand & Cart
PSX-2A Power Steering Fluid Exchanger - Cart Not Included
PSX-2B Power Steering Fluid Exchanger - Bench Top Model
RTI Differential Fluid Exchanger
Catalog # Description
Differential Fluid Exchanger - Includes Cart & Hoses