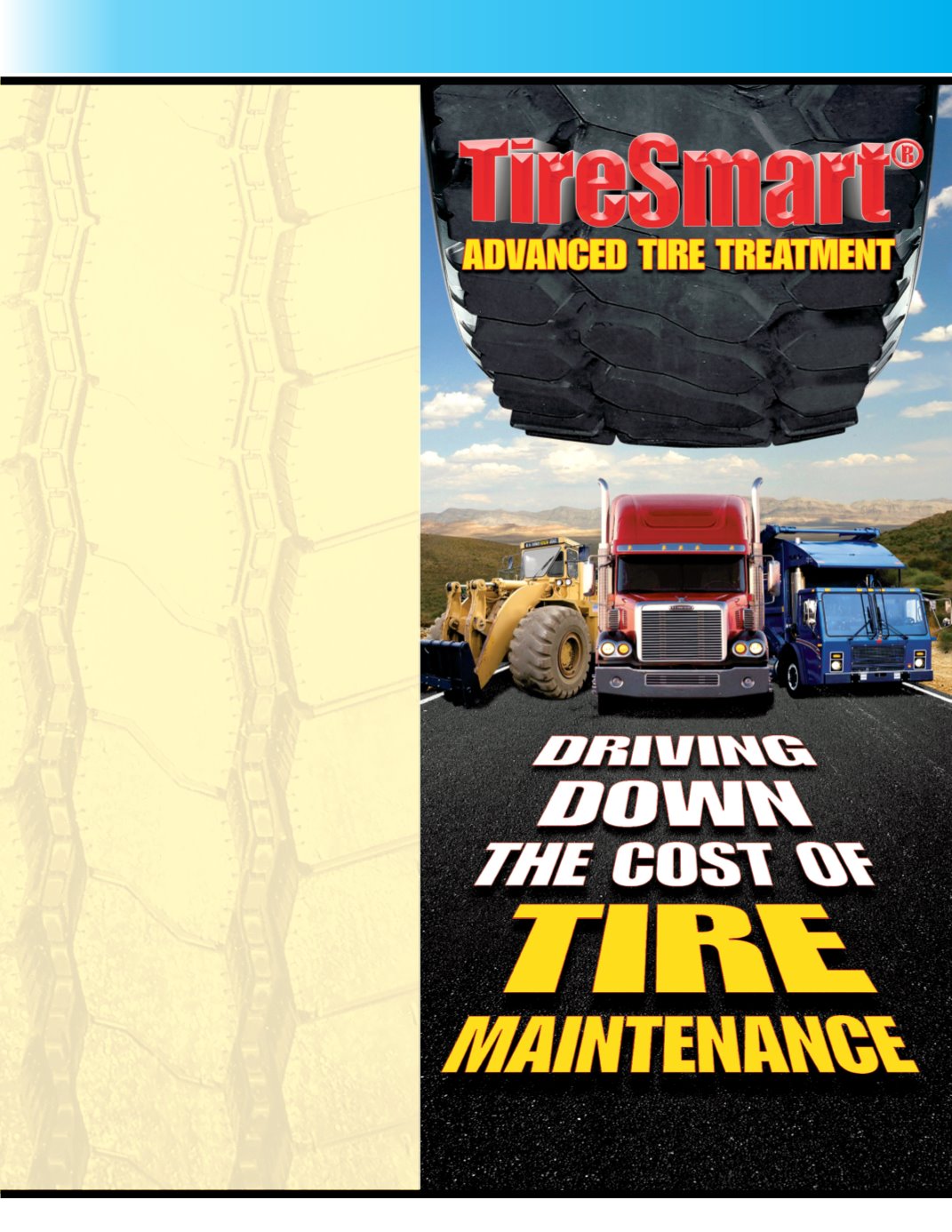 Stable Air Pressure:
This prevents bead, rim and porosity leaks, and seals
around leaking O-Rings in tires. It reduces over-
inflation due to heat buildup and results in less rolling
resistance and better fuel economy.
Cooler Running Tires:
This conducts heat away from the shoulder, tread and
bead area of the tire and dissipates it through the
Sealed Punctures of up to 1/4" Diameter:
Our products seal punctures in the tread area of the
tire up to 1/4" inches in diameter.
Casing and Inner Liner Protection:
Our products prevent air migration through the inner
liner and ply-cord material that causes the casing to
weaken and fail, under inflation and heat build up. It
allows for better recaps and prevents the tire inner
liner from drying and cracking.
Reduction of your Maintenance Budget:
Our products can help reduce your tire maintenance
budget by extending your current tire tread/casing life,
reducing tire related down time and repair costs and
by reducing equipment damage due to flats and
Available in 9 Different Packaging Sizes:
We ensure less waste by offering many packaging
options depending on the size of your tires. In
addition to 55 gallon drums we also offer bottles,
totes and pails with pour-in or pump-in varieties.
Now formulated with Rust Eliminator™:
While protecting your tires, our product also protects
your wheels and rims from rust.
Taray TireSmart is a technological
breakthrough in preventative tire
maintenance for Multi-Use Tube & Tubeless
Tires and Heavy Duty Off-Road Tires.
Through a one-time application, TireSmart
can help reduce your tire maintenance
budget by extending your current tire
tread/casing life, reducing tire related down
time and repair costs, and by reducing
equipment damage due to flats and
19
PATCHES & SEALANT
Taray TireSMART® Tire Sealant
| (239) 394-6099 phone | (239) 394-5388 fax | (800) 526-0049 toll free