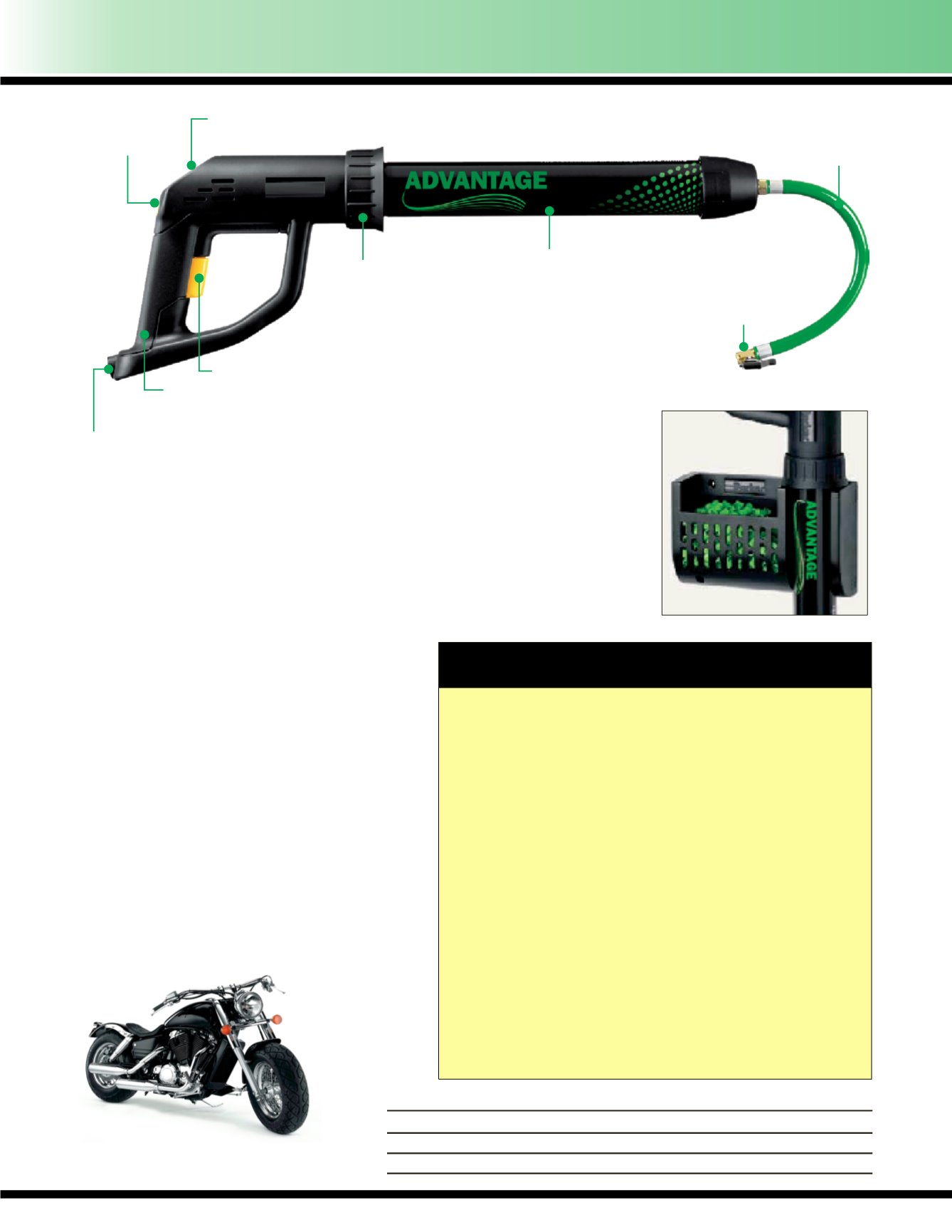 23
NITROGEN INFLATION SYSTEMS
Handheld Nitrogen Generator
| (239) 394-6099 phone | (239) 394-5388 fax | (800) 526-0049 toll free
Nitrogen inflation button
Interchangeable cartridge
Models ANS-018H
(handheld model)
The Advantage nitrogen inflation wand is a revolutionary compact,
handheld nitrogen gas generator that produces nitrogen gas from
compressed air. The Advantage wand was developed in order to
offer a cost-effective, reliable and safe alternative to traditional gas
supplies such as cylinders.
Nitrogen is used as a clean, dry, inert gas primarily for removing
oxygen from products and/or processes.
Nitrogen inflation can prevent tire deflation
caused by oxygen permeation through the
tire walls and therefore helps to achieve
and maintain correct tire pressure.
The Advantage nitrogen inflation wand is
robust, lightweight and mobile and
designed to inflate tires with nitrogen gas
at the correct pressure and purity on
vehicles such as cars, vans, trailers and
With innovative technology, outstanding
performance and convenient design, the
system offers a practical, low investment
solution with a high margin potential.
Catalog # Description
Nitrogen Production
ANS-018H Advantage Nitrogen System
ANS-018C Advantage Replacement Cartridge (12,000 fill duty cycle)
Form Factor
Specifications
Handle life expectancy
Cartridge life expectancy
Nitrogen capacity
Nitrogen purity
Ambient temp. range
Maximum tire pressure
Air inlet pressure range
Inlet connection
Certifications
CE conforming (EMC & PED art.3.3)
Warranty (handle)
Warranty (cartridge)
Maintenance
Dimensions (handle)
9" (h) x 3.5" (w) x 25" (d)
Weight (handle)
Dimensions (cartridge)
Weight (cartridge)