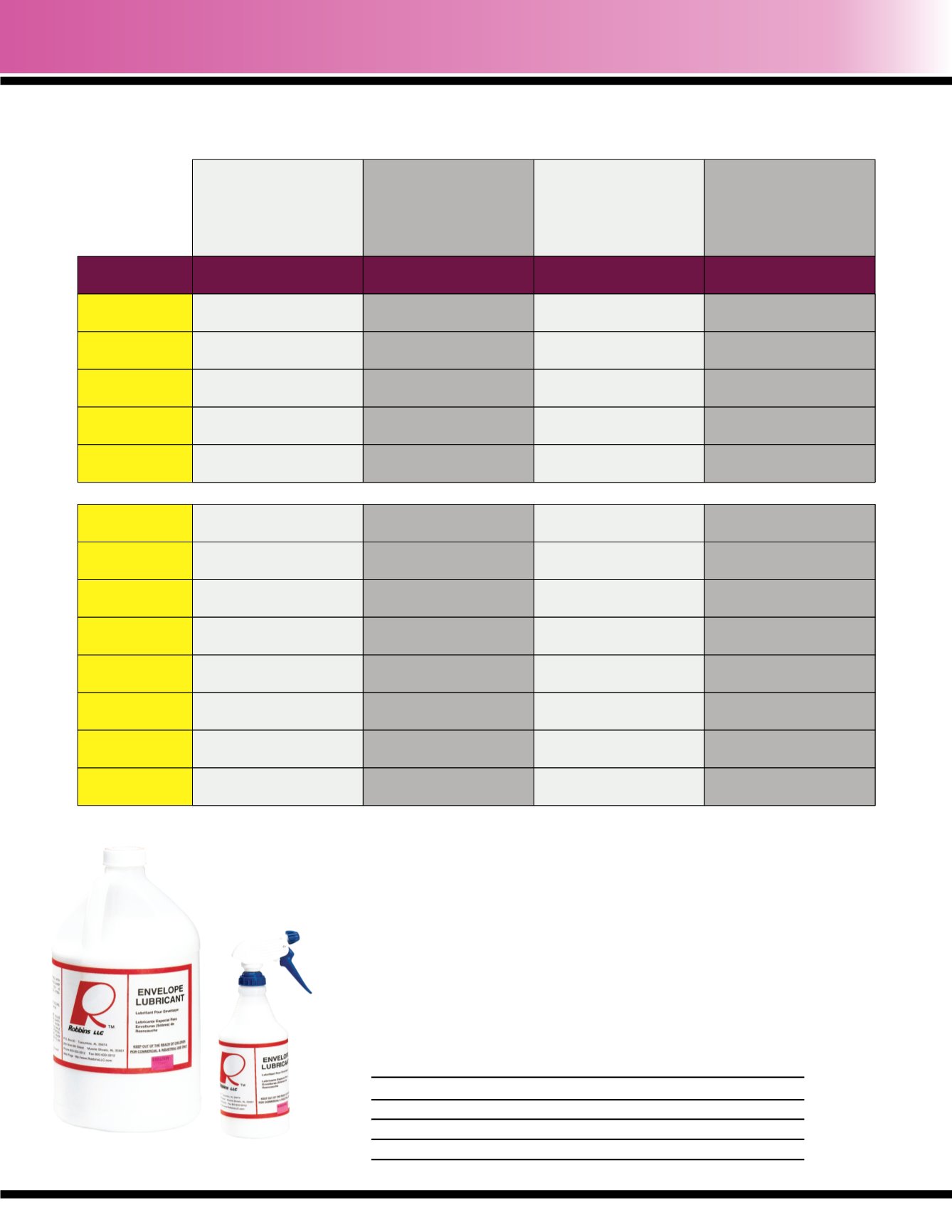 Catalog #
Robbins envelope lubrication
Description
Size
Robbins envelope lubrication
Robbins envelope lubrication
Robbins Envelopes Sizing Guide
42
ENVELOPES - TUBES - FLAPS
Robbins Accufit CMT Envelopes
| (239) 394-6099 phone | (239) 394-5388 fax | (800) 526-0049 toll free
Tire Size
Envelope Size
Envelope Size
Envelope Size
Envelope Size
Module Type
Seals sidewall-to-sidewall.
Road Rim Type
Road Rim Type
Rimless System
11.00R24
12.00R24
13.00R24
11R24.5
11R24.5 op
12R24.5
275/80R24.5
285/75R24.5
295/80R24.5
305/75R24.5
305/75R24.5 dl
12.00R24 dl
14.00R24
12777
12776
Envelope Lubrication:
* The Robbins envelope has an extended life lubricant applied at the factory.
* This extended life lubricant should prevent sticking throughout most of the
envelope life; however, the number of cures you experience before sticking
occurs will vary considerably depending on the condition of the tires being
processed. The cleaner the tire, the better the results.
* If sticking occurs, turn the envelope inside out and wash with a solution of liquid
dishwasher soap and water. Gently scrub with a soft brush. Let the envelope dry
prior to returning to service. After cleaning, the factory applied lubricant should be
refreshed and eliminate further sticking. If sticking continues, apply a new coat of
Robbins envelope lubricant as needed.