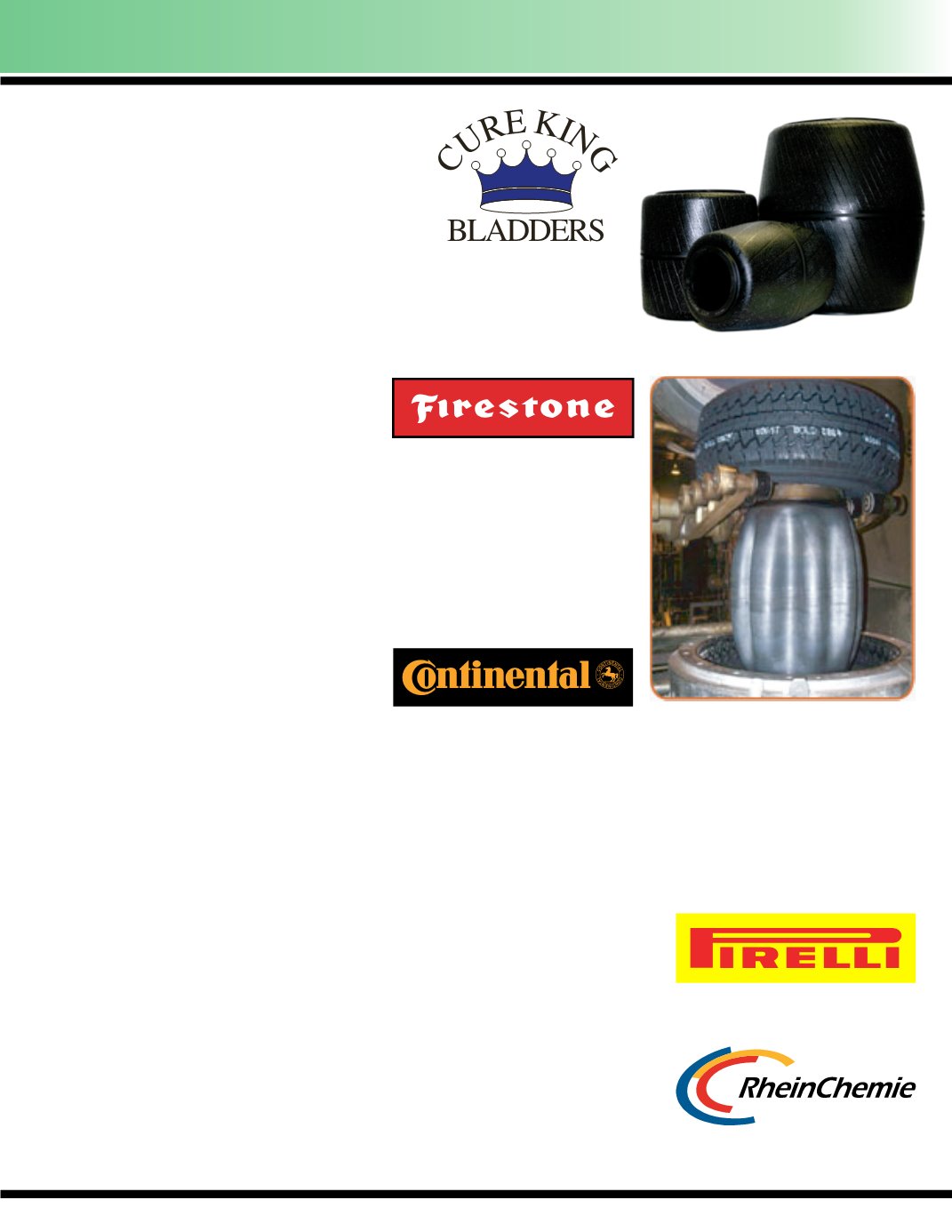 48
BLADDERS
Tire Curing & Tire Making Bladders
| (239) 394-6099 phone | (239) 394-5388 fax | (800) 526-0049 toll free
Cure-King Bladders
Cure King is a designer and manufacturer of high quality
Tire Curing Bladders and Tire Building Machine Bladders
for almost 40 years. Cure King products are proven
and used in tire factories in more than twenty countries
worldwide. We are also pleased to be recognized as one
of the leaders in bladder technology for 21st century tire
Firestone Bladders
With a great combination of long-wearing life and
top performance, Firestone curing bladders provide
you with a lower cost per cure. Superior cures-per-bladder are part of the Firestone
advantage throughout our entire line. Designed for long life with minimal downtime.
Stringent controls throughout the entire manufacturing process ensure optimum quality
Firestone has the capability to produce, stock and ship nearly 25,000 curing bladders
per year. All Firestone bladders are guaranteed against defects in materials and / or
Continental Bladders
Continental Tire North America, Inc. (CTNA) curing
bladders are more than a lot of hot air. Made of a
special heat resistant compound, we offer a full spectrum of BOM style curing bladders designed to be used in high technology
State of the art technology and decades of commitment to excellence have enabled CTNA to produce bladders for giant
off-the-road tires using one of the largest bladder presses in the world. Combining that technology with over 100 molds,
allows us to produce curing bladders to fit all requirements.
In addition to our innovative technology and ISO 9001 certified facilities, we also have a track record of competitive pricing,
prompt delivery and customer satisfaction. CTNA curing bladders are the right choice for you.
Pirelli / RheinChemie Bladders
Pirelli Special Products Division is one of the most modern facilities in the world dedicated to
producing tire curing bladders and other quality engineered rubber products.
Pirelli bladders and engineered rubber products are ISO 9001 certified.
Pirelli continues to be an industry leader utilizing the latest technology to analyze
applications and to select or develop the best performing bladders for both new tire and
retread curing systems. Advanced high performance rubber compounding ensures
greater consistency and optimum reliability. Technical service is available on a world
Bladders can be designed for specific applications.