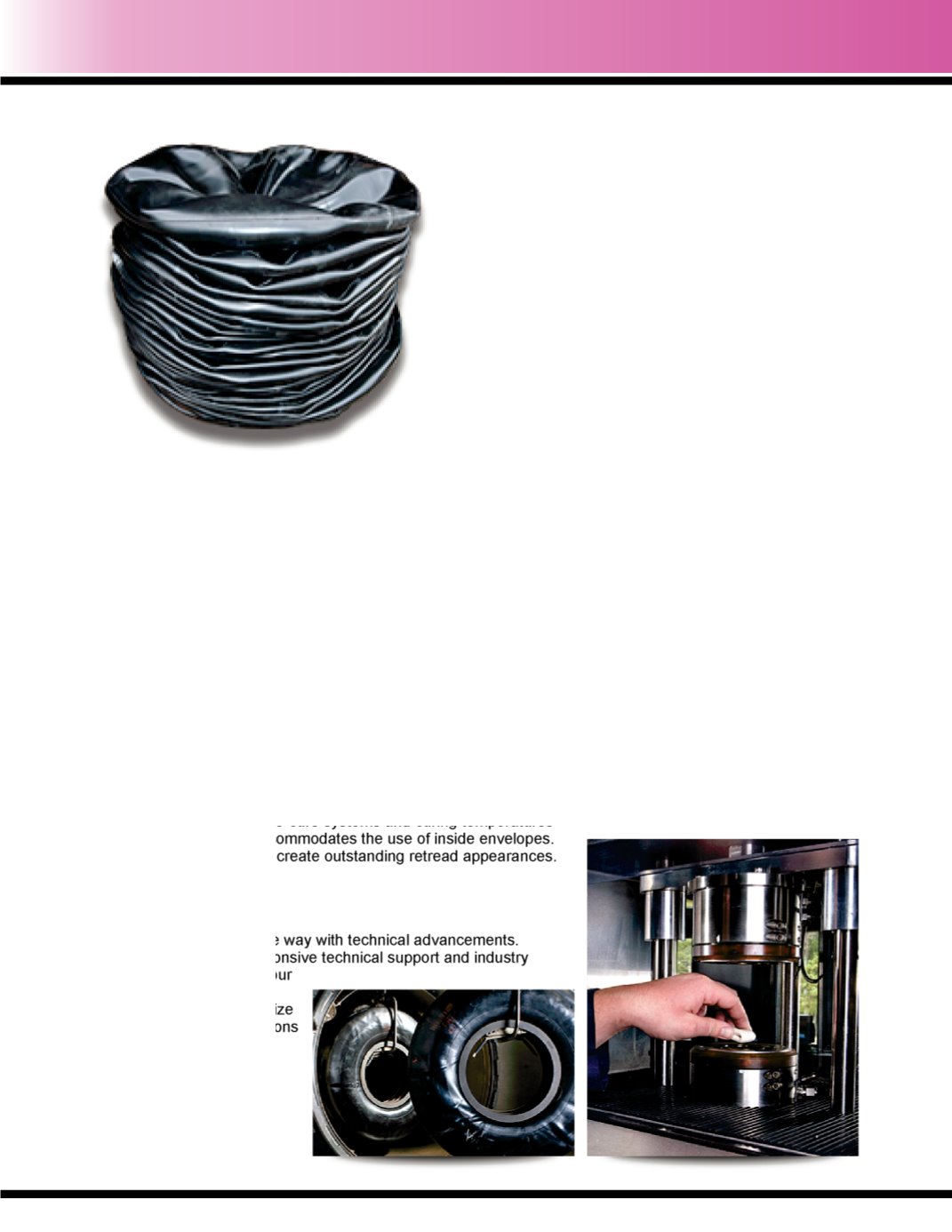 37
ENVELOPES - TUBES - FLAPS
Robbins Accufit CMT Envelopes
| (239) 394-6099 phone | (239) 394-5388 fax | (800) 526-0049 toll free
Robbins Envelopes
Robbins, LLC has been setting the quality-to-beat standard
in rubber products since 1921. Today, Robbins is a global
leader in producing quality curing tubes and envelopes in
the USA using compression-molding technology (CMT).
Robbins CMT envelopes and curing tubes consistently
deliver the lowest cost-per-cure in both pre-cure and mold
In your retread shop, you have to increase productivity and
decrease miscures to improve your bottom line. Put the
Robbins CMT advantage to the test in your shop and you
Robbins manufactures inside and outside envelopes and
curing tubes in all size ranges. Our strong, established
worldwide network of distributors makes access to the
quality envelopes, curing tubes and retread accessories
you need fast and easy. Plus, Robbins maintains an
extensive inventory of CMT envelopes and curing tubes
for quick turnaround on shipments.
LOWER COST-PER-CURE
Durability Means Longer Life
* Compression Molding Technology allows our envelopes to have a uniform thickness.
* Robbins CMT envelopes have no splice that could result in envelope failures.
* Robbins CMT envelopes are designed to be thicker in strategic areas such as around the valve and in the crown.
* Robbins CMT envelopes have a longer life, resulting in a lower cost-per-cure.
* Factory pre-lubrication extends the life of the envelope.
Flexibility Means Better Fit & Better Performance
* Minimized envelope growth
* Maximized damage resistance
* Enhanced performance with envelope spreaders
* Retained pliability throughout the envelope life
* Superior holding pressure allows our CMT envelopes to keep a seal during the entire curing process.
Compatibility Means Robbins Can Meet All Your Envelope Needs – Inside & Out
* Tested & proven for all pre-cure systems and curing temperatures
* Robbins CMT design accommodates the use of inside envelopes.
* Robbins CMT envelopes create outstanding retread appearances.
TECHNICALLY ADVANCED
Robbins continues to lead the way with technical advancements.
We provide reliable and responsive technical support and industry
training programs to ensure our
customers have the latest
information on how to maximize
product and process innovations
to keep them competitive.