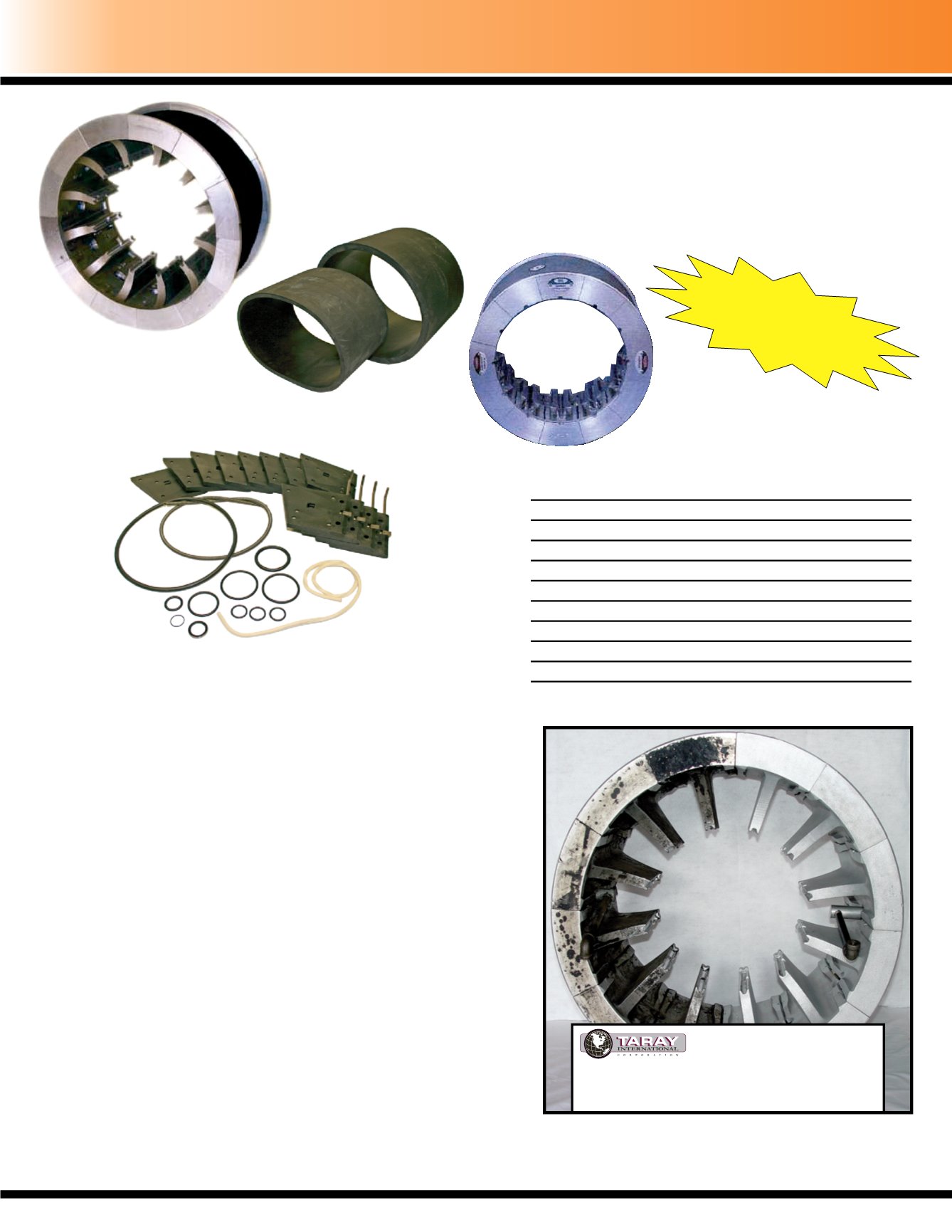 7
RETREADING TOOLS & SUPPLIES
Expandable Rims, Parts & Service
| (239) 394-6099 phone | (239) 394-5388 fax | (800) 526-0049 toll free
Expandable Rims & Belts
Taray International Corporation stocks & supplies a complete line of Expandable Rims
BANDAG / NATIONAL
CINCINNATI RETREAD SYSTEMS
Spanning sizes from sizes 12-14" to 22-24.5" rims & matching belts.
Please call your sales representative for a full product listing.
National Brand Rim
Replacement Belts
CRS Brand Rim
Expandable Rim Rebuild Kits
Catalog #
Description
HD Stem Set - 8 Plain, 4 Lock, 1 HD Garter
Plain Stem - 8 Required - Sold Each
Locking Stem - 4 Required - Sold Each
HD Garter Spring - Sold Each
Expandable hub seal repair kit
National Brass Bushing For Piston (Front)
Brass stems - all locking - set of 12
All Popular Sizes
Available!!
OFFERING QUICK
TURNAROUND TIMES
Complete Expandable Rim
Refurbishing Facility
Rims are refurbished to new rim specs.
All segments are welded & re-machined
All worn fittings are replaced as needed.
Rims are tested for medial & lateral
Quick turnaround time : Rims can
usually be refurbished within 1 week.
All domestic freight costs for refurbishing
Expandable Rim
Refurbishing & Trade Program
RIM REFURBISHING
BEFORE | AFTER